Security Project Management
Tectus has expertise both in security and in project management. We use a disciplined methodology for managing security and compliance projects for our customers. This includes a reliance on a strong project management mentality that starts with a thorough understanding of a client's business and then leads to a project plan covering tasks, costs and deliverables. This project plan is reviewed and adhered to throughout the engagement.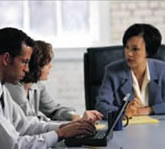 Tectus also has the resources to lead engagements or completely manage them. We are aware that many organizations have their best people running the business and therefore we can scale up with additional resources if necessary to ensure success on larger projects. Our resources are technically strong and utilize a wealth of security and global enterprise experience.
In addition, Tectus has developed a proprietary application called ACEIS for assessing vulnerabilities across global or complex enterprises. One of the main challenges that companies providing security solutions face is understanding exactly where specific vulnerabilities lie so that a Security Roadmap can be created. Tectus has developed state of the art tools that allow customized assessments which can easily cover an extended network of offices, suppliers, service providers or trade partners. At the touch of a button, our system can produce trend analysis and management reports, and can provide a sharp view into the specific problem areas within a complex enterprise.
Security Project Management Services we provide include:
Security Policies and Procedures

Security cuts across many critical functions within an organization, including information systems, risk management, physical infrastructure, human resources, finance and supplier management. Having the correct policies in place and a process for ensuring they are working is critical to creating a secure, productive environment to conduct business. Tectus will delve into your business processes and work with you to create effective, enforceable security policies. We can manage the integration of these policies into your organization and institute a system to measure policy compliance and effectiveness. Tectus has also created Security Manuals for organizations.

Tectus has the experience and tools to perform on site, physical security audits. We can do these against any set of standards such as TAPA or C-TPAT. Further, we have the ability to perform these audits in most countries in the world using highly trained, in country nationals through our strategic partnerships.

For this year, the US Department of Homeland Security has allocated $3.2 billion for state and local preparedness expenditures to fund various activities such as planning, organization, equipment purchase, training, exercises and management/administration costs. These are to support the objectives outlined in various DHS documents such as the National Infrastructure Preparedness Plan, the National Incident Management System and the National Response Plan. Tectus' experience and our excellent project management methodology enables us to lead or act as the implementing entity in various Homeland Security projects.